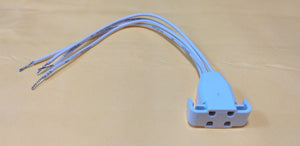 4 Pin SE HQ-3 Clip UV Lamp Holder/Connector with Wire (UL Certified) (Qty. 6)
Regular price
Rs. 1,500.00
In Stock. Ships within 5 business days.
- Made in USA high quality UV lamp holders for superior performance of UV lamps.
- Body Material: PBT with a V-0 Flame Class rating. RTI 140 degree C and UV Stabilised.
- These 4-Pin UV Lamp Holders are UL Listed / UL Certified.
- These lamp holders are technically qualified for 660V and power up to 600W.
- Technically suitable for 24x7 operations.
- Available as holder-only or with customised wire length as required by the OEM application.
- For over fifty years manufacturer has been providing superior components to the fluorescent lighting industry. Using their own molding, die stamping, and machine shop facilities, all products are designed, built, and assembled in-house in the USA to ensure consistent quality.
---
More from this collection