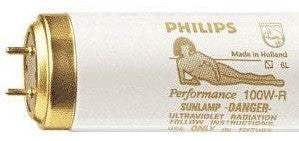 Philips iSOLde CLEO Performance S F71T12 100W (Qty. 5)
Regular price
Rs. 2,330.00
In Stock. Ships within 2 business days.
Model Name: Philips CLEO Performance S F71T12 100W
Lamp Wattage: 100
Reflector: No
XPT: No
Diameter in mm: 38
Length in mm: 1,763
UV-code: 100-O-18/3,0
Ordering-code: 964404640
Philips iSOLde Professional Tanning Lamps.
Tanning as a way of life.
The Philips range consists of a wide variety of tanning lamps that have been designed to suit different skin types and different purposes. They have been manufactured with the most advanced materials and are amongst the best in performance and product standards. Years of research with various medical institutes have established and substantiated our understanding of the effects of UV-rays on the skin. The results of these studies have served as the basis for our outstanding technologies and forward-thinking product development.
The Philips CLEO tanning lamps portfolio
Philips CLEO tanning lamps offer high effectiveness throughout their entire lifetime, and, additionally, each individual lamp provides a constant output which means more reliable tanning results.
Philips CLEO lamp diversity
The lamp types: CLEO Advantage, CLEO Swift and CLEO Professional-S offer a very effective, immediate and long-lasting pigmentation. Due to their high UV output, a wonderfully dark tan is reached within a short amount of time. These lamps are particularly suited to shorter tanning sessions.
The lamp types CLEO Professional, CLEO Performance-S and Performance, Effect, CLEO Compact and CLEO Emotions promote gentle tanning. These lamps have immediate tanning results. Because the lamp is milder, they are ideal for people who enjoy longer sessions in the solarium. Additionally, they help people with sensitive skin in achieving long-lasting tans. They are suitable for home and recreational tanning. The high-pressure lamps, CLEO HPA, are characterized by their high power and intensity. They are a perfectly adapted to all CLEO low-pressure lamps. The wide range of lamps covers all levels of performance and provides more fl exibility while reaching operating temperatures more quickly.
Starter
The CLEO starter range is a complete set which has been designed to perfectly suit the characteristics of the CLEO lamp series. Fast and reliable ignition prolongs the economic life of the lamp. The CLEO starters are safe in handling, UV consistent, insensitive to voltage fl uctuations, interference-free and especially environmentally friendly.
---
More from this collection