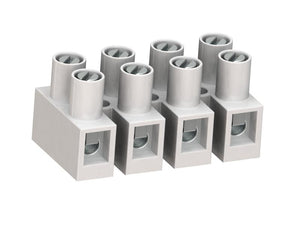 Weco 302/02 2-Pole Europe Type Connectors-Socket Terminal Strips (Qty. 100)
Regular price
Rs. 1,800.00
In Stock. Ships within 5 business days.
Owing to the diversity of variants available, it is not possible to specify all part numbers, please contact us for further details.
Pitch: 8 mm
Number of Poles: 2
Areas of Application: For lighting applications and similar electrical equipment.
RoHS Compliant
Rated Cross Section 1,5 mm²

Wire Stripping Length 5 mm ± 0,5 mm
Rated Insulation Voltage 450 V acc. to EN 60998-1
Rated Current 17,5 A
Torque 0,4 Nm
Comparative Tracking Index CTI ≥ 600
Insulating Group I
Temperature Range -40°C up to 100°C
Terminal body Nickel plated brass
Screw M2,6; zinc plated steel, blue passivated
Wire protector Stainless steel strip
Moulding PA, natural, V-2 (PA, white, V-0) Details in parentheses apply for "no flame" products
These screw terminal strips are used for connecting stripped, unterminated, stranded or solid copper wires, ranging from 2,5 up to 16 mm² and voltages up to 500 V. All types are available from 1 to 12 poles and can easily be cut into the required length. A mounting hole is provided between every circuit. The flexible polyamide moulding allows use on uneven surfaces. Each circuit of those terminal strips with the indication "-HDS" has a wire protector to prevent damage to the wire by the turning screw. The screws are protected against working loose and cannot be lost. They are backed out and ready for wiring.
---
More from this collection