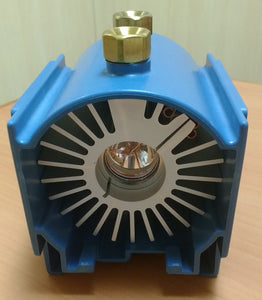 Excelitas PE300 BFM MODULE Cermax
Regular price
Rs. 57,000.00
Available. Dispatched within 1-2 weeks.
Key Features
High-intensity illumination - 5000 Lumens

Up to 6.6 Watts of UV output (<390 nm)

Power range of 180-320 Watts

1000 hours lamp lifetime

Broad spectral range with 5900o Kelvin color temperature
Applications
Medical fiber optic illuminators

Industrial fiber optic illuminators

Machine vision

Infrared and visible spotlights/beacons

Spectroscopy

Microscopy

UV Curing

Video projection
Cermax Xenon short arc lamps from Excelitas are ideal for applications that require a high degree of illumination control.
The Cermax® Xenon short arc lamp from Excelitas Technologies is an innovative lamp design in the specialty lighting industry. Cermax Xenon lamps were introduced in the early 1980s and are now used in diagnostic endoscopes in most major hospitals worldwide, in high brightness projection display systems, and for a wide variety of other high- performance applications.
The Cermax® Xenon lamps, Models PE300BF and PE300BUV, have an integrated parabolic reflector, enabling high intensity, focused output of ultraviolet, visible, and infrared radiation. With their internal reflector and rugged ceramic body construction, Cermax® Xenon lamps are the safest and most compact alternative to conventional quartz xenon lamps. Cermax lamps are ideal for applications that require a high degree of illumination control.
Current-regulated or power-regulated power supplies with output ripples of less than 5% are recommended. Single shot ignition pulses are advised because radio frequency starters may damage the lamps internal reflector.
In addition to lamps, Excelitas Technologies manufactures power supplies for Cermax® Xenon arc lamps, lamp holders, OEM lighting systems, and fiber optic light sources.
About Excelitas Technologies
Excelitas Technologies is a global technology leader focused on delivering innovative, customized solutions to meet the lighting, detection and other high-performance technology needs of OEM customers.
From medical lighting to analytical instrumentation, clinical diagnostics, industrial, safety and security, and aerospace and defense applications, Excelitas Technologies is committed to enabling our customers' success in their specialty end-markets. Excelitas Technologies has approximately 3,000 employees in North America, Europe and Asia, serving customers across the world.
---
More from this collection